★★★★★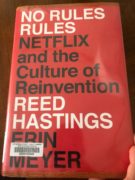 "No Rules Rules: Netflix and the Culture of Reinvention" by Reed Hastings and Erin Meyer
This book is incredibly well-written. I loved the back-and-forth between Hastings' viewpoint and Meyer's. Each concept is told with excellent stories surrounding them. Having Meyer's voice as someone telling the story as seen from the outside is a powerful counterpoint to Hastings' first person knowledge.
For anyone who is leading a company, or in a position to influence how a company is led, this book is invaluable. Hastings and Meyer walk you through the building blocks to Netflix's winning culture, block by block, explaining how each relies on the previous one for the next to be possible.
Note, however, that this isn't a generic leadership book. If you're not leading a company or can't influence how one is led, it's likely to be interesting, but not that useful. I can't see many of the principles and ideas in this book working at a departmental level.
Continue reading